How are live plants packaged for shipment?
We have had a few inquiries regarding how our live plants are packaged so what better way to show it than to put in in a blog post with a step by step description of the complete process from stage 1 to 5.
Step 1: Wrapping the plants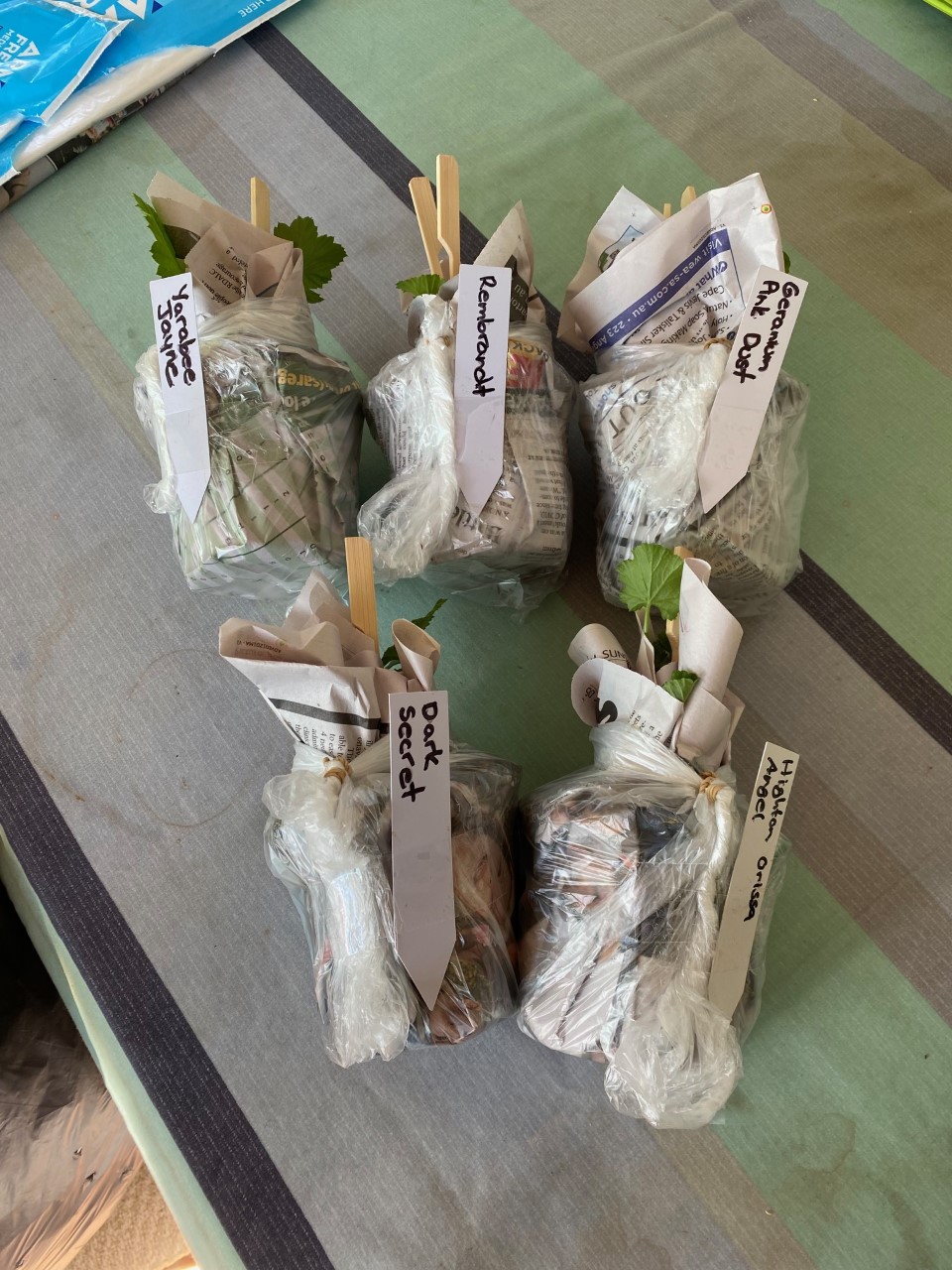 Your plants begin the process being individually wrapped in newspaper with the soil tucked into place to ensure it stays in the pot during transit. The paper also supports delicate leaves by holding them together.
We prefer to water pots the night before shipment to give the soil plenty of time to drain, that way they won't be waterlogged during transit, however they will be quite moist still, so we place plastic around the base of the pot (not the leaves) to prevent seepage into the outer box, leaving the top most part of the plant free to breath during transit.
The plastic also helps to prevent drying of the soil during transit. Remember the soil will be just moist enough to sustain the 1-4 days delivery and no more, but in the event that is is a little dry when receiving just give them a good drink when you receive them and let them recover for a day before transplanting.
Step 2: First stage of packing the box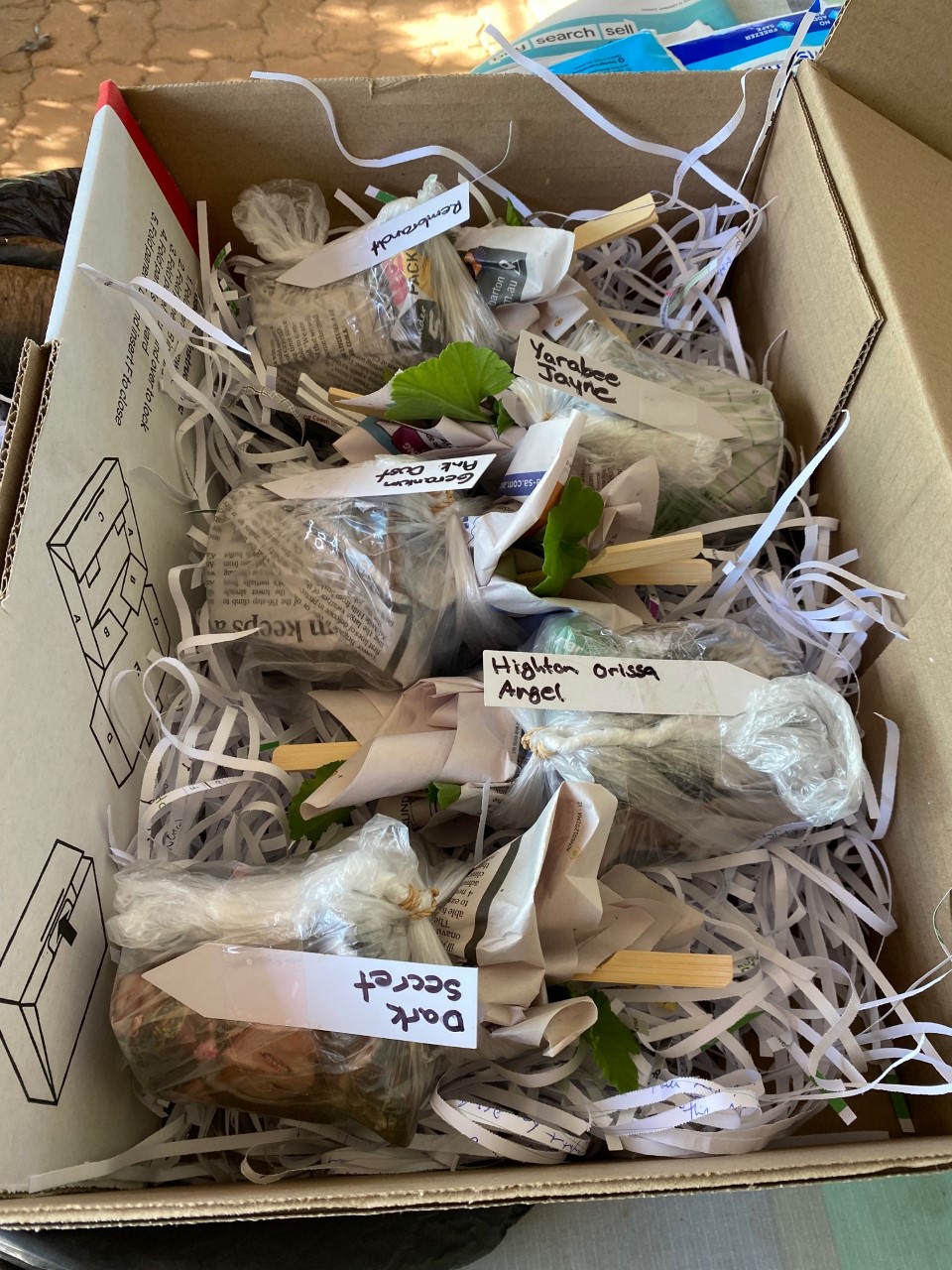 For larger orders there can sometimes be 1 or 2 layers of plants in the box, but in this example, which was a real customer order on the day we chose to take photos for the blog, there is only 1 layer of plants, but the process will be the same for each order.
We start with a layer of shredded paper on the base to cushion any bumps or box drops during transit. then we place the plants in a manner where they are supported either by each other or more paper so they don't move an inch.
Step 3: Second stage to packing the box. Plants are tucked in nicely.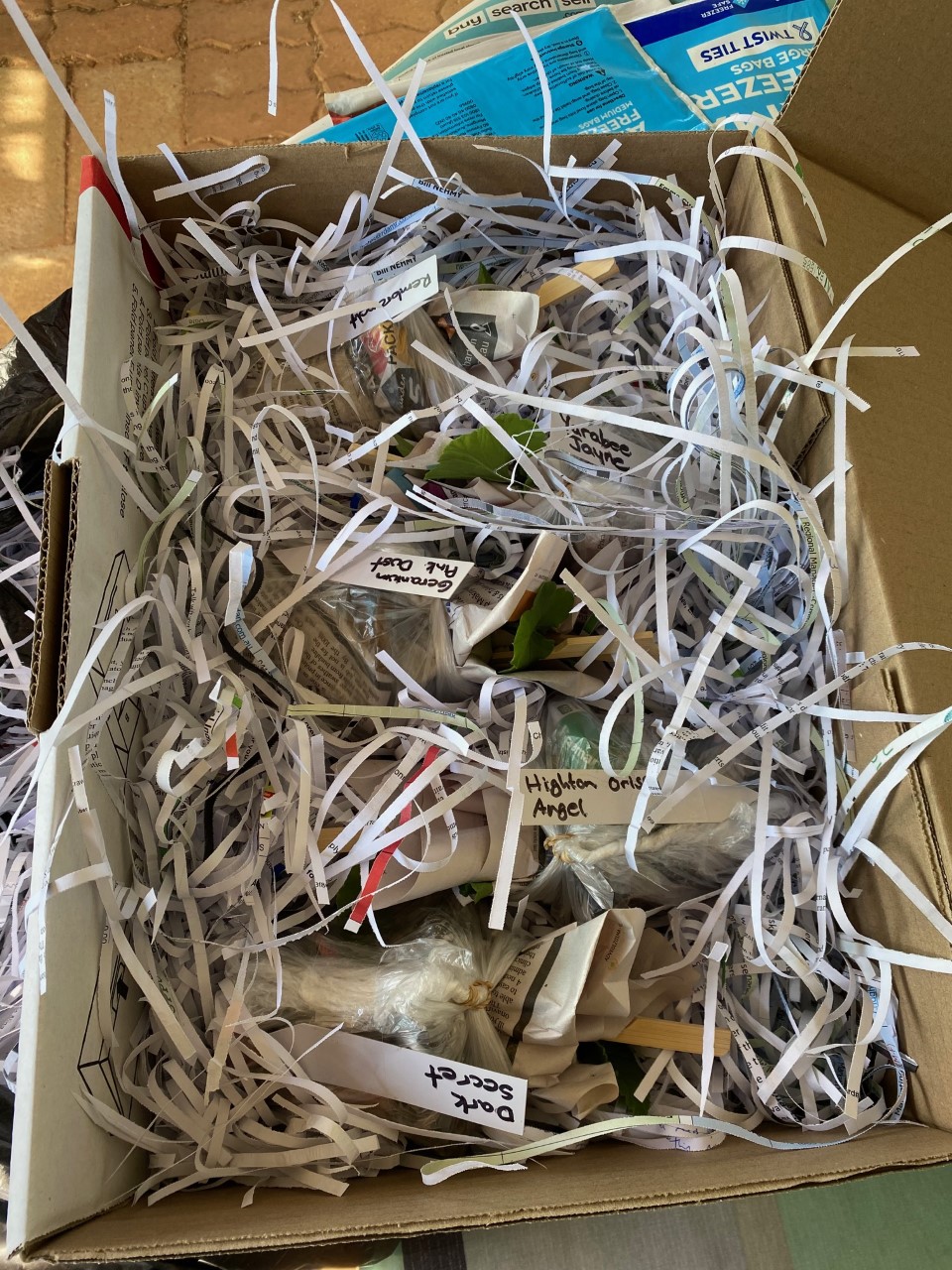 Following stabilizing the plants, all remaining gaps are then tucked in tightly with more paper so they will not move, even if the box is dropped or thrown about during transit. Also as paper is a natural insulator they will be protected from heat & cold, while still being able to breath during shipment.
Step 4: Plants are laid to bed.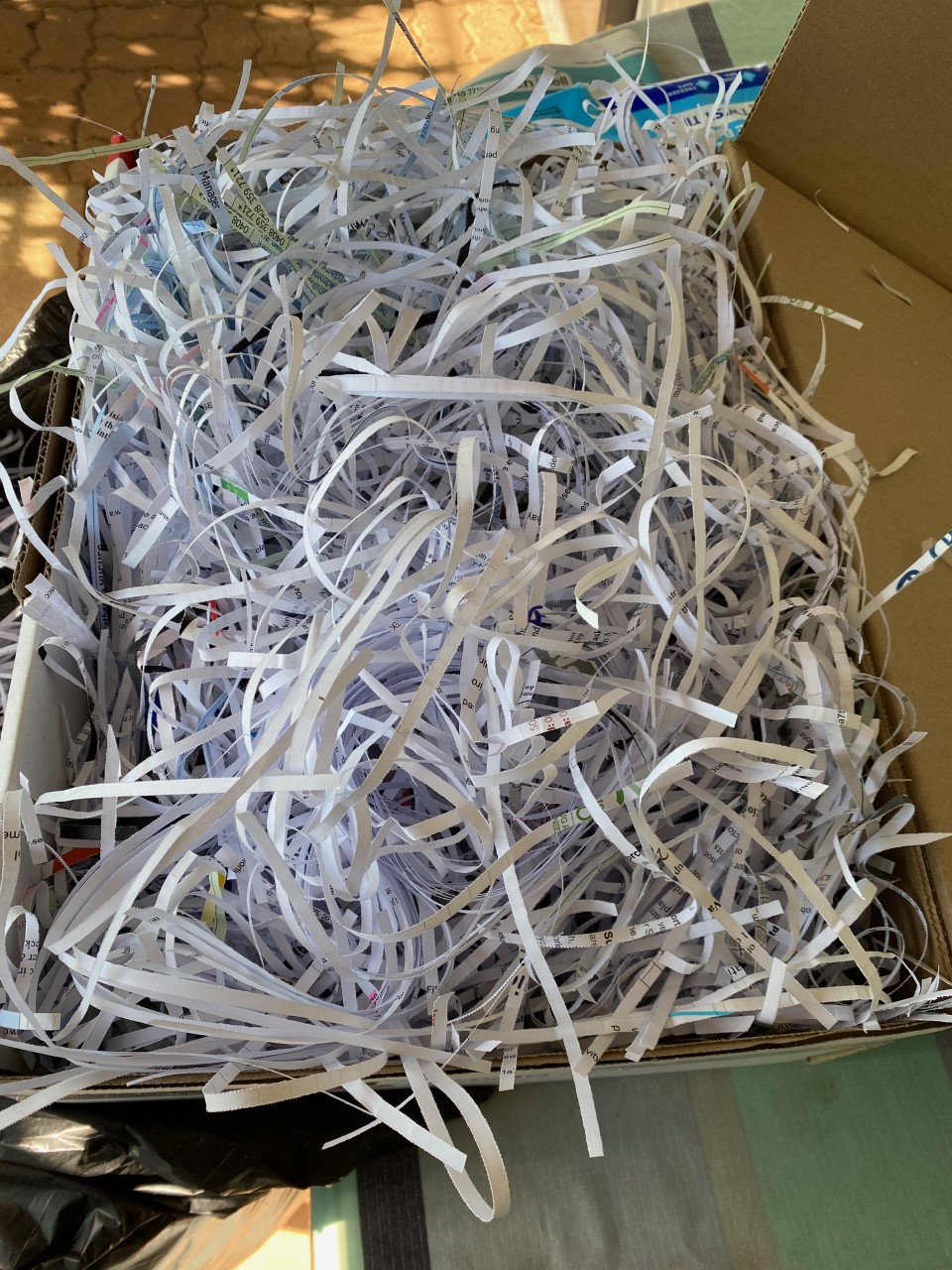 The final top layer of shredded paper is added to the top after we are happy the plants are stable and not able to move about. The top layer will help insulate further from heat and cold.
Step 5: Packing slip & labels added.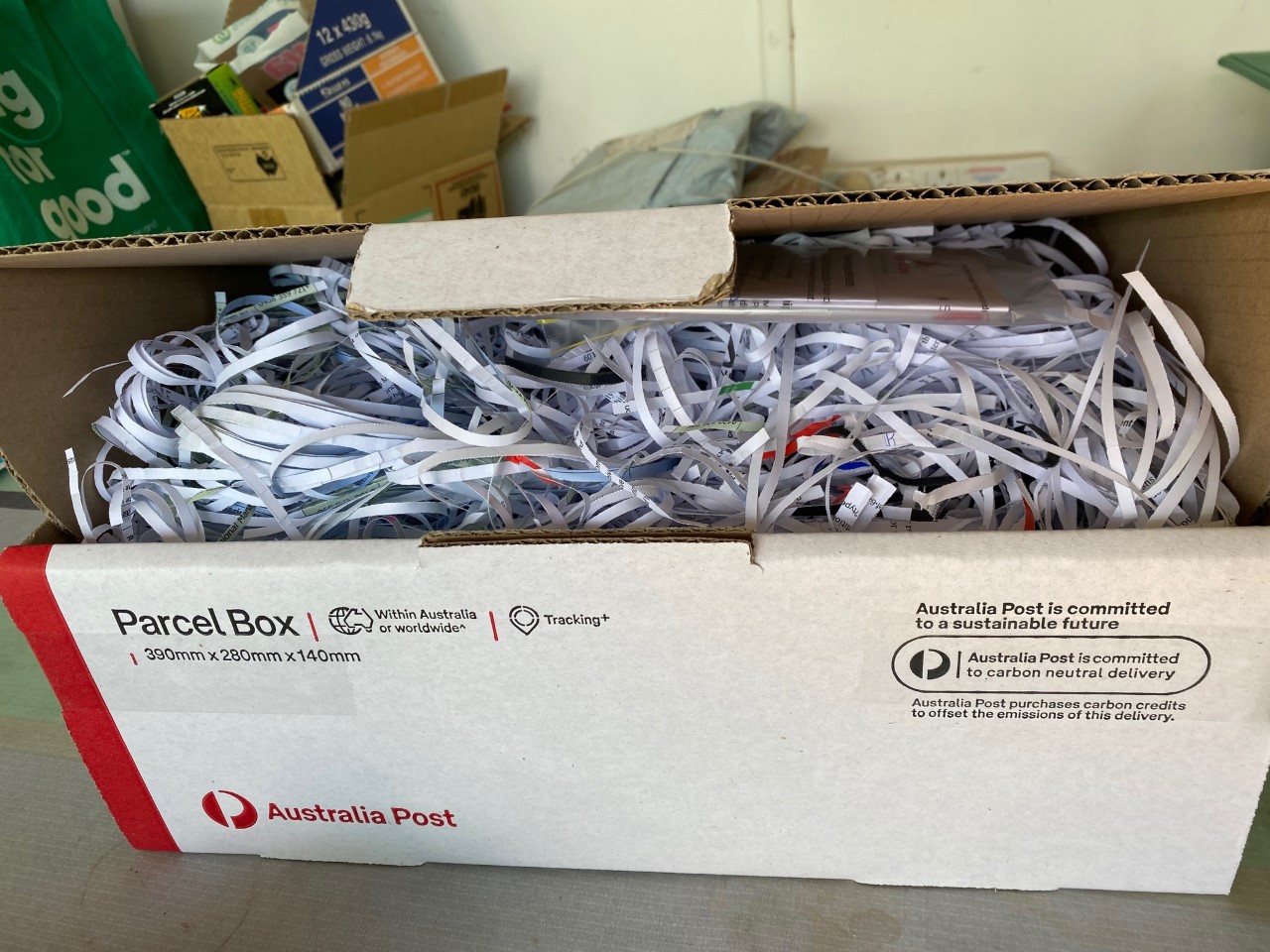 Now that the plants have been safely packaged it is time to add the packing slip and seal the box. We also attach a 'Live Plants Keep Cool & Avoid Direct Sunlight' label on the outer of the box for the courier and we have noticed that it does seem to make a difference, as our success rate for delivery is around 98% even during the warmer months.
Final notes
We hope that this will help answer questions regarding how plants are packaged. As you can see we take great care with limiting movement during transit & insulating the box so the plants arrive in good order.
In the rare event that items still do not arrive in good condition, (this is likely due to situation out of our control once they are handed over to the courier, as we no longer control the condition they are in), we still like you to receive your parcel in good order. For this reason, and the fact that we only get around 2% of orders that are damaged, which is a very small amount, we have a 100% guarantee of satisfaction upon arrival, which is our Live Plant Guarantee.
If you encounter any issues with receiving your order just contact us and send us a photo within 24 hours of receiving your order. Its as simple as that, and we will organize replacements with our next dispatch, or a refund if we don't have the stock, Easy Peazy!
The reason we prefer you contact us within 24 hours is that after that time, the plants are in an environment further outside of our control and therefore all claims must be made within the first day of receiving the goods or we will put it down to external conditions outside of the business.
Saying that though, as stated most of our customers are very happy with how they are received so you can rest assured that your plants will be in the best hands throughout the purchase process to delivery!
Enjoy and Happy Gardening!